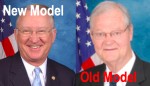 Yesterday's US elections were a win for the military-industrial complex, even though its favorite candidates didn't all keep their jobs.
The top recipient of campaign contributions from military contractors, Missouri Democrat Ike Skelton, lost his reelection bid for the US House of Representatives. Skelton's top four contributors in this election were major military contractors: Lockheed Martin ($44,000), General Dynamics ($40,400), Boeing ($23,900), Northrop Grumman ($21,760). His opponent was a Tea Party-backed candidate who was far less dependent on support from the defense industry.
California Republican Buck McKeon, looks set to replace Skelton as chairman of the House Armed Services Committee. Guess which industry McKeon's biggest backers came from?
It's a win-win!
Yesterday's electoral outcome doesn't in any way threaten the profits of Pentagon contractors and arms makers. Those companies spent over $18 million on this election to make sure that would be the case. More than half of that money went to Democrats.
From initial returns, it looks like US House and Senate candidates who were among the top defense industry donors had more or less the same chance of keeping their seats as other candidates.
War and military spending were not widely discussed issues during the campaign, and the shift in control of one chamber of the US Congress was a predictable consequence of the ongoing recession.
Devotees of the populist Tea Party, whose chosen candidates led the successful Republican charge to control the House, philosophically oppose excessive government spending, but tend to make a (glaring) exception for the defense industry.
Losing candidates in the chart below are marked in bold.
It's morbidly interesting that John Murtha, who died this year not long after a contractor-related corruption scandal, still cracked the top 20 donees list. His successor, Mark Critz, kept the seat under Democratic control. Critz got $115,149 from the defense industry for his campaign, according to federal records compiled and analyzed by OpenSecrets.org.
Top 20 US Defense Industry Congressional Donees, 2010
Ike Skelton (D-MO)
$365,011
Richard C Shelby (R-AL)
$279,850
Howard P "Buck" McKeon (R-CA)
$274,150
Daniel K Inouye (D-HI)
$197,750
Patty Murray (D-WA)
$166,650
Jim Moran (D-VA)
$162,450
Silvestre Reyes (D-TX)
$153,000
Richard Burr, (R-NC)
$149,200
Joseph A Jr Sestak (D-PA)
$148,800
Dutch Ruppersberger (D-MD)
$144,650
John P Murtha (D-PA) [Critz]
$142,950
Steny H Hoyer (D-MD)
$140,100
John McCain (R-AZ)
$138,300
Kay Granger (R-TX)
$133,850
Norm Dicks (D-WA)
$130,850
Barbara A Mikuslki (D-MD)
$130,385
C W Bill Young (R-FL)
$127,750
Rob Wittman (R-VA)
$127,150
Gabrielle Giffords (D-AZ)
$123,900
Duncan D Hunter (R-CA)
$121,100
Source: OpenSecrets.org