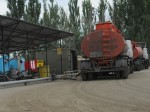 The Washington Post today reports on the Pentagon's decision to flip the bird to Congressional investigators, or anyone else who questions the way it spends money.
Yesterday, while everyone in America was still preoccupied with the election results, the US Defense Department announced it would award a fuel contract worth as much as $600 million to Mina Corp., a mysterious company registered in Gibraltar, which has been suspected of facilitating corruption in Central Asia. Mina's ownership is a closely kept secret. But, for some reason, the Pentagon doesn't seem to mind.
The Pentagon's dealings with Mina and an associated firm, Red Star Enterprises, have been under investigation for the past six months by the House subcommittee on national security and foreign affairs. Since the Afghan war began, the companies have come from nowhere to win Pentagon contracts worth about $3 billion.
This quote, coming from an anonymous source, is priceless:
"We understand how it looks. We are trying to change how it looks. … We are not hiding anything extraordinary," said a senior Defense Department official who spoke on the condition of anonymity. The goal, he said, is "maximum transparency."
The companies supply jet fuel to the US-run Manas Transit Center in Kyrgyzstan, pictured. EurasiaNet has the local angle.
Citing "people familiar with the business," the Post says "Mina and Red Star are controlled by Douglas Edelman, an elusive California businessman who used to run a bar and hamburger joint in Bishkek, and a young Kyrgyz partner, Erkin Bekbolotov."
Seth Hettena has more on Edelman and Mina Corp. at his blog. The company has some very curious connections to big names in the Republican Party. I'm betting there's a big story here somewhere.
For what it's worth, Mina says it won the earlier fuel contracts "fairly," and has explained its opacity thus:
"Confidentiality is essential to permit the companies to meet the U.S. military's needs in volatile areas of the world and supply vital fuel to our troops in the field."
Translation: If we reveal who's profiting from this contract, American soliders will die. You don't want that to happen, do you? So back off.
That's pretty much the military's attitude, too. The Pentagon claimed that "national security" justified its decision to award a previous contract Mina without giving competitors a chance to bid, according to the Post.