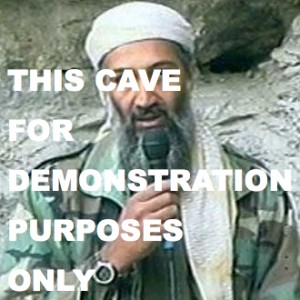 At this point, there's still very little hard information about the US commando raid that killed Osama bin Laden. Most news accounts are repeating the same limited set of details supplied by the military.
The New York Times and MSNBC are among those reporting that US intelligence agencies obtained the name of bin Laden's most trusted courier some four years ago, but only last August were able to track his movements to bin Laden's apparently custom-built compound in a Pakistani tourist town.
What not yet known is how US forces tracked the courier. Homing device? Aerial surveillance? Foursquare?
It's always dangerous to speculate, especially on big stories. But that never stops anyone from doing it, and it won't stop us. Onward!
We've got to wonder, to what extent were contractors involved in the lead-up to the bin Laden raid? Many who've followed the news out of South Asia these past few months are guessing about the possible involvement of Raymond Davis, the CIA agent and Blackwater employee who fled Pakistan following a murder charge there. Personally, I think that's a stretch, considering how many people are involved in the US military and intelligence apparatus in the region. But even if it turns out that the diplomatic incident involving Davis had something to do with the hunt for bin Laden, that would only answer part of the "how" question.
Secret Surveillance Technologies
At National Journal, Marc Ambinder reports that a combination of "basic criminal forensic techniques and…highly advanced and still-classified technology" were used in the bin Laden hunt.
On Twitter, US Navy veteran Robert Caruso sounds fairly confident that US forces tracked bin Laden's couriers with some semi-secret surveillance technologies known collectively as TTL. That would make sense, given what's been made public through the sporadic press reports and bare-bones disclosures about the TTL "Manhattan Project" over the past few years.
TTL stands for "tagging, tracking and locating"—an accurate description of what the technologies involved are supposed to do. In unclassified documents that reference the program, it's also referred to as HF-TTL, for "hostile forces" tracking, and CTTL, for "clandestine" or "continuous" tracking.
Based on those code words, W.I.B. compiled the following list of some US military contractors that appear to be involved in the development and deployment of the TTL technologies that may—emphasis on the uncertainty—have been used to find bin Laden.
Contractors Involved With TTL (Tracking, Tagging And Locating)
Contracting Agency
Contract signed
Contract completed
Description
Recipient
Recipient AKA
97ZS: U.S. Special Operations Command
4/22/10
1/31/11
HF-TTL LCSM SUPPORT
L-3 COMMUNICATIONS CORPORATION
97ZS: U.S. Special Operations Command
10/18/10
1/31/11
HF-TTL LCSM SUPPORT
LOCKHEED MARTIN CORPORATION
97ZS: U.S. Special Operations Command
3/9/10
6/11/10
HF-TTL Equipment
TYONEK ENGINEERING AND AGILE MANUFACTUING LIMITED LIABILITY COMPANY
TEAMCOR
97ZS: U.S. Special Operations Command
1/9/09
9/28/09
Tagging  Tracking and Locating Systems – to develop a hybrid networked TTL solution which consists of energy-efficient relay nodes/radios  low-power tag radios  and self-healing mesh network protocols.
ARGON ST  INC.
SAN DIEGO RESEARCH CENTER
1700: NAVY  Department of the
9/3/10
8/31/11
TTL Training and Technical Services
BLACKBIRD TECHNOLOGIES  INC.
1700: NAVY  Department of the
9/29/09
9/28/10
ENGINEERING SUPPORT SERVICES FOR HF-TTL PROJECT IN Z17
EG&G TECHNICAL SERVICES  INC
5700: AIR FORCE  Department of the (Headquarters  USAF)
11/22/06
3/31/07
Tactical TTL System Prototype
HARRIS CORPORATION
Again, it remains unclear what, if any, role TTL technology played or didn't play in the bin Laden raid. The key intelligence came—no surprise here—from a human source. And the actual work of tracking bin Laden's couriers could conceivably have been done with less flashy surveillance methods. For all anyone knows, was completely irrelevant to the bin Laden hunt—in which case, the question becomes whether this program is worth hundreds of millions of dollars.
That said, I'm betting we'll be hearing more about TTL as this story plays out, and more about one company in particular that seems to have won the most TTL contracts (at least the unclassified ones): Blackbird Technologies of Virginia.
Follow This Money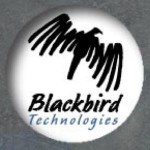 Blackbird's "core competencies" include "[t]agging, tracking, and locating expertise, including experience with technical systems that provide a clear picture of operational assets and targets."
Its key executives, Mary M. Styer, Richard Moxley and Steven Penn, are also partners in an investment fund, Razor's Edge Fund LP.
Last year, Razor's Edge moved to purchase a stake in HBGary, the security contractor whose plans to disrupt Wikileaks were revealed by Anonymous hackers.
The Future Of Pakistan's Military Aid
All these connections are interesting but don't add up to much, yet. And, frankly, the logistics of the raid itself will quickly become a sideshow.
The story to follow now is the foreign policy angle—specifically, "what Pakistan knew" about bin Laden's whereabouts in the months and years before his death.
The answer to that question will have some bearing on the future of America's annual $3.2 billion gift of military aid to Pakistan, which, in turn, will affect the domestic politics and that nuclear-armed country, and potentially its relationship to neighboring powers. What looks like a victory today could be the segue to an even more dangerous future. It is too soon to celebrate.