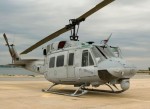 This week, I've written a story about a large-but-low-profile Pentagon contractor for Willamette Week, the award-winning paper in Portland, Oregon, where I've been working since June. Read the story there.
The contractor, FLIR Systems, has claimed more Department of Defense and Homeland Security contracts than any other in the state, which has relatively few big contracts. It makes advanced imaging technology coveted by armed forces around the world.
Since 9/11, its revenues have increased sixfold, to $1.4 billion last year. As impressive as that may be, consider FLIR's profitability: from a $29 million loss in 2000 to a $56 million profit last year.
Chairman and CEO Earl Ray Lewis III this year signed a contract that sets his base salary at $875,000 next year, several times what he made when he joined the company before 9/11. Forbes magazine says Lewis' compensation last year totaled $5.4 million.
Late last month, blaming uncertainty around the military budget, FLIR announced it would lay off 40 workers in Wilsonville—one-tenth of its workforce in the state. Then last week, FLIR won a three-year, $52 million U.S. Navy contract for the Star SAFIRE thermal-imaging systems it manufactures in Wilsonville.
Recently the company struck deals with Pakistan and Saudi Arabia, two nominal US allies with spotted human rights records.