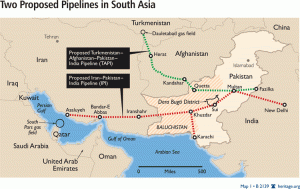 The perpetually postponed U.S. withdrawal from Afghanistan tracks a little too closely with timelines for another fubar project, the Turkmenistan-Afghanistan-Pakistan-India gas pipeline.
TAPI, as the pipeline is known, ought to be called TBD. It's been a Big Oil dream since the mid-1990s, and a decade's-long American military presence in the region has brought it no closer to reality. The Afghan news outfit Killid Media reported yesterday that "Little has happened on the TAPI natural gas project involving four countries a year after [an] agreement was signed by the governments."
Planners are promising the project could be in operation by 2016. … Work which was delayed by security concerns will start from early 2012 and finish in two years…
Are the pipeline planners scheduling based on the projected 2014 timeline for U.S. withdrawal from Afghanistan, or vice-versa? Does it matter? Either way, there are signs that the U.S. government is doubling down on the project as Pakistani leaders have indicated they might prefer a competing pipeline proposed to connect Pakistan and a U.S. adversary, Iran.
Pakistan's Express Tribune reports:
Addressing students of Lahore University of Management Sciences…US ambassador to Pakistan Cameron Munter had termed Pakistan-Iran gas pipeline deal unfeasible. A viable alternative, in his view, was the Turkmenistan-Afghanistan- Pakistan-India (TAPI) pipeline project via Afghanistan. …
Sources inform The Express Tribune that the Export-Import Bank (EIB) of the United States as well as the Overseas Private Investment Corporation (OPIC), an "independent" US agency, have offered Pakistan financing for TAPI.
The U.S. is also the key shareholder in the Asian Development Bank, another financing agency for TAPI, as W.I.B. noted previously.
But promises of more American dollars may ring hollow, as the following letter in a prominent English-language Pakistani newspaper about the competing pipeline projects suggests.
"Pakistan," the letter begins, will "not take any dictation from anyone."
The gas pipeline project with Iran is a lifeline for us for overcoming the energy crisis. The US energy team…came up with a strange demand that Pakistan should abandon this project and instead offered assistance for the Turkmenistan-Afghanistan-Pakistan-India gas pipeline project (TAPI) as an alternative option. …
Washington has already successfully persuaded India to jump out of the deal, leaving Iran and Pakistan to implement the project. It is an undeniable fact that Pakistan has no cheaper and safer option than getting the Iranian gas. The laying of the pipeline on our side of the border must be taken up immediately, since Iran has already constructed their part of the pipeline up to Pakistani border. Any effort to undo this vital project would be a criminal act against national interests.
Catch that? While the American-backed pipeline might be done in two years' time, the Iranian-backed pipeline is already built up to the border with Pakistan, just waiting for the hookup.
Happy New Year!