[mappress mapid="3194" initialopeninfo="false" autocenter="true"]
The big headline from the latest report on trends in the arms trade, by the SIPRI research group, is that India has become the world's top importer of conventional weapons.
The map above shows the top five arms arms exporting nations, along with their top customers. (The pinpoints for nations are marked by a dot; they share a color with their customers.)
What it shows is more or less consistent with previous years. But there are signs of a troubling shift in the global marketplace for the tools of violence.
According to SIPRI, the "average volume of worldwide arms transfers in 2006–10 was 24 per cent higher than in 2001–2005." Arms sales have increased dramatically in a short period of time. As if that weren't bad enough: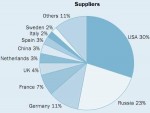 The top five suppliers accounted for 75 per cent of all exports of major conventional weapons in 2006–10, compared with 80 per cent in 2001–2005.
And: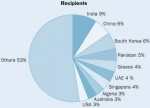 The overall share of the volume of international arms transfers accounted for by the top five recipients dropped from 39 per cent in 2001–2005 to 30 per cent in 2006–10.
A greater diversity of suppliers, a broader market of buyers, a significantly higher total sales volume: What's the upshot?
In a word, proliferation. Public works and welfare are out. Guns and bunkers are in.
As the global economy continues to unravel, food prices climb, joblessness spreads, reactionary movements grow in popularity, long wars of occupation drain Western blood and treasure, Middle Eastern oligarchies face a wave of popular uprisings, and Far Eastern nations build the environmentally catastrophic surveillance states of the future, the people who control the world's traditional, waning centers of power—national governments—are arming up.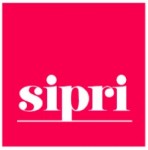 Anecdotally, it seems that the rising centers of power—corporations, transnational political movements—are loading up on guns, too. But those "non-state transfers" beyond the scope of the SIPRI report.
Top Conventional Arms Suppliers And Recipients, 2010
**Supplier
Share of global arms exports
Top recipient
Share of supplier's transfers
Second recipient
Share of transfers
Third recipient
Share of transfers
United States
30%
South Korea
14%
Australia
9%
United Arab Emirates
8%
Russia
23%
India
33%
China
23%
Algeria
13%
Germany
11%
Greece
15%
South Africa
11%
Turkey
10%
France
7%
Singapore
23%
United Arab Emirates
16%
Greece
12%
United Kingdom
4%
United States
23%
Saudi Arabia
19%
India
13%
Source: SIPRI (pdf)