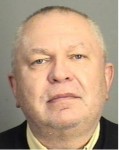 Earlier this week the Guardian reported on a US criminal case that offers "a rare insight into the byzantine world of international arms brokers." Prosecutors claim that
British businessman Gary Hyde and his associate Karl Kleber fraudulently imported more than 5,000 Chinese-produced AK-47 drum magazines into the US from the UK via Germany.
The alleged deal backfired, however, after US agents received a tip-off that the drums, each of which holds 75 rounds, had come from China, the subject of a US import ban on weapons.
Kleber, a German citizen who reportedly lives in Portugal, is pictured. The magazines were not intended for commercial sale, but for distribution to Iraqi security forces by US military contractors. The convoluted travels of the magazines is described in the criminal complaint against Hyde, who was arrested January 20 at this gun show in Las Vegas. The complaint is reproduced below.
Here are two passages explaining the origins of the plot:
In 2007 Paul Restorick and Mil-Tec Marketing was contracted by a U.S. based company, General Defense Corporation, to provide various arms, munitions, and firearms accessories for a U.S. Department of Defense contract. Mil-Tec Marketing was an international arms, ammunition, and accessories dealer located in Kent, United Kingdom. Among the items required by the contract were approximately 5,752 75-round AK-47 drum magazines. Throughout 2007, Paul Restorick enlisted the help of Karl Kleber and Gary Hyde. Karl Kleber and Gary Hyde traveled to China to purchase AK-47 drum magazines on behalf of Restorick. …
The investigation has revealed that Paul Restorick instructed Karl Kleber and Gary Hyde to hide the country of origin of the drum magazines and to place false markings on them. Paul Restorick attempted to provide samples of the drum magazines to representatives of General Defense Corporation prior to the delivery of the full shipment, the drum magazines were refused because their true country of origin was deemed suspicious. Karl Kleber subsequently shipped the drum magazines to Transarms in Germany and sold them to American Tactical Import (ATI), Rochester, New York. Karl Kleber knowingly provided false infomation to ATI which caused them to claim to the U.S. Government that the country of origin for the drum magazines was Bulgaria.
After General Defense Corporation figured out Hyde, Kleber and Restorick were running a scam, the company filed a lawsuit. This didn't stop Hyde & Co. from unloading most of the AK-47 magazines to another American gun dealer for a total of $345,600.
[rssless text="Gary Hyde complaint"] [gview file="/images/2011/02/gary-hyde-complaint.pdf"] [/rssless]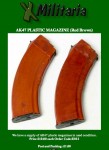 This is all big news in upstate New York, where the magazines wound up in the hands of a Rochester dealer, Anthony DiChario. A local newspaper has more details on the plot. A local TV station also reproduces a search warrant in the case, and the smugglers' clumsily chosen code words:
"The drum magazines must not smell of sweet and sour or of special fried" one line in the court papers states.
There are also mentions of ongoing investigations into Kleber and others by European authorities. U.S. agents claim to have learned that German investigators were looking at Kleber and Transarms for their "possible involvement in the illegal sale of machine guns via Croatia to Iraq."
XMilitaria Ltd, one of the companies co-owned by, Kleber, is still advertising used plastic and steel AK-47 magazines starting at £5. No mention wheth