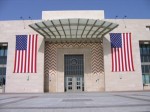 Some foreign companies are leaving Tunisia with the fall of the US-backed government. Others stand to gain.
Whoever gets this job, for instance, will probably earn his bonus: Inter-Con Security Services, which has the US State Department contract to guard the Embassy in Tunis, is looking for a new country manager. (Benefits include relocation expenses, a housing stipend, a company car and the "ex-pat income tax advantage.")
Inter-Con's ad was posted on January 5, nine days before the Tunisian President Zine el Abidine Ben Ali fled the country following a dramatic police crackdown on demonstrators in the capital.
The Tunisian revolution did not come without warning—it was preceded by weeks of escalating protests. Which may explain why, on January 4, the State Department gave out a $214,000 contract to to install "forced entry/ballistic resistant" upgrades to the embassy in Tunis, pictured above.
(Olgoonik Environmental Services, an Alaska-based company whose contracting "empire" caught the eye of Mother Jones magazine, got the contract.)
I came across these two contracting curios in an attempt find out where some of the $631 million in US military aid to Ben Ali's government went.
Defense Department contract announcements since the mid-1990s show tens of millions of dollars awarded to companies for equipment that was re-sold to Tunisia. Those companies include SRC TEC Inc, for ground surveillance radar; Bionetics Corp, for work on something called the Air Force Metrology Calibration Program; Sabreliner Corp, Northrop Grumman and General Electric Aircraft Engines for military aircraft including the F-5 fighter.[rssless][visitor]
WHAT CAN YOU FIND OUT ABOUT SRC TEC INC?
JOIN THE INVESTIGATION.
[/visitor][/rssless]
In the past couple of years, the US Army also supplied the Tunisian government with small- and high-caliber ammunition and Humvees, in addition to the military helicopters reported previously.
Here is a partial list of organizations that have won US military contracts in Tunisia since 2000. Most are American, but some of the contractors are based in Turkey, Germany and the UK.
NETSOFT ASSOCIATES INCORPORATED
SCIENCE AND ENGINEERING SERVICES INC
GENERAL DYNAMICS INFORMATION TECHNOLOGY INC
MLS-MULTINATIONAL LOGISTIC SERVICES LTD
ILTER INSAAT TESISAT SANAYI VE TICARET LTD STI
ASFA INSAAT PAZARLAMA SANAYI VE TICARET LTD STI
BUNDESAMT FUER BAUWESEN UND RAUMORDNUNG
NATO MAINTENANCE AND SUPPLY AGENCY ORGANIZATION
MINISTRY OF NATIONAL DEFENCE (TUNISIA)
The contract with the Tunisian Defence Ministry was apparently for railway improvements.
It's hard to divine the nature of many of these contracts. Some are blandly labelled "logistics," a category that could include weapons shipments.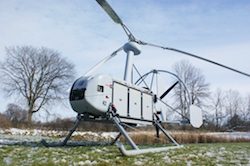 The intriguingly named Candy Europe Ltd appears to be a subsidiary of C2 Logistics, a London-based, high-end courier service that specializes in delivering "hazardous and sensitive" cargo to "areas not normally serviced by traditional logistics companies."
For the right price, C2 will even dispatch an aerial drone to parachute-drop your cargo "to any point on the globe."
[gravityform id=6 title=false description=false ajax=true field_values='Registered=No&compname=SRC%TEC%20Inc']