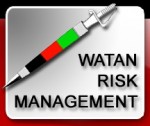 From the Wall Street Journal:
The U.S. military began the process of blacklisting a major Afghan company owned by relatives of President Hamid Karzai, a move U.S. officials describe as a significant step to stop American funds from fueling corruption and bankrolling the Taliban.
The company is Watan Risk Management, a British-managed company owned by two of Karzai's cousins, Rashid and Ahmed Popal. The blacklisting "would affect the firm's subsidiaries and associated companies, which include fuel supply, telecom, construction and steel businesses," the Journal says.
The Journal identifies one Simon Hilliard as Watan's managing director, but fails to name the company's subsidiaries and affiliates that may be affected by the contracting ban. WIB has them here: [visitor]
HELP WITH OUR RESEARCH. ACCESS MORE OF THIS SITE. BANISH THESE BANNERS.
[/visitor]
Assadullah Salam Construction Company
Hameedi Technologies Supply and Service
Popal Amiri Construction Company
(For what it's worth, I happened to see the US Army exclusion notice for Watan last night, and assumed that I'd be able to break the story this morning. Nope! Good on the Journal.)
Watan was among the companies named in a US Congressional report earlier this year on corruption and double-dealing by security contractors in Afghanistan. More background from the Journal:
The chief of Watan's security arm—a man who goes by the name Commander Ruhullah and runs security on the highway—is known as "the Butcher" for his and his men's violent ways, which include targeting civilians, the Congressional report said.
The company's guards also keep transport routes open for opium trafficking, another major source of cash for the insurgency, a U.S. official said.
Killid Media, an Afghan news organization (which once employed WIB adviser PJ Tobia) attempted to map out the connections between Karzai's government and major private security companies in an exhaustive report earlier this year.
Killid's reporter also managed to interview Commander Ruhullah himself. Here's "The Butcher's" side of the story:
Watan Risk has been accused of paying tax to the Taliban and bribing them. Ruhullah denied co-operating with them, and told Killid that the Americans had conducted an inquiry into this. He said: "U.S. congressmen called Rashed Popal, Rateb Popal and I to Dubai where we had an eight-hour meeting. They had no evidence and just made claims. We showed them where we spent the 10 million dollars that was our income … we finally convinced them."
Ruhullah also denied reports, mentioned in the Journal story, that Karzai's half-brother, Ahmad Wali Karzai, owns a piece of Watan Risk Management. "I swear by God that Wali Karzai doesn't even have one percent share in our company or any other company. This is all nonsense to say he is a shareholder," he told Killid.
Back in August, Ruhullah claimed that his newest venture, Kandahar Security Group, was all set to survive Karzai's promised purge of private security companies. As predicted here, that promise is proving hollow. From McClatchy this week:
After months of often-frustrating debate with Western leaders, Afghan officials announced Monday that they're going to allow the widely criticized security firms to keep providing protection for international development groups and NATO supply convoys for the foreseeable future…
More than 50 registered security firms employ more than 26,000 people under U.S. contracts, with the majority on military contracts. The companies include DynCorp, Four Horsemen International and Watan Risk Management, an Afghan firm run by two of Karzai's cousins.
While the registered firms will be allowed to keep operating…the government was in the final stages of shuttering more than 50 unauthorized security companies that often acted as robber barons on the nation's roads.
Perhaps Karzai's motive all along was to shut down the "unauthorized" security companies in order to generate more business for the one owned by his relative? It's basically impossible to say for sure. But if the Afghan President's patronage network in any way included Watan, the company's blacklisting by the US Army throws a wrench in the Karzai kickback machine.
The immediate question now is whether Watan's other clients—including USAID contractors and the State University of New York—will follow the Army's lead, and sever ties with the company. (Watan claims to hold contracts with the UK Ministry of Defence, as well, although an MOD official denied contracting with Watan earlier this year.)
The Watan Group's website, up last night, is down today. So for posterity's sake, I'll reproduce Watan Risk Management's public client list below.
UK Military - Watan Group is currently assisting the Helmand Taskforce and Joint Force Support with the supply of construction materials to Forward Operating Bases.
Thales Defence - Watan Risk Management have moved over 400 convoys delivering new communications systems to every PRT in the country on behalf of Thales and ISAF/NATO.
State University New York (SUNY) - Afghanistan Parliamentary Assistance Programme
American University of Afghanistan (AUAF)
Delouite (USAID – Funded)
Turquoise Mountain
Control Risks Group
Garda World
Checchi Project (USAID – Funded)
Jhpiego (USAID – Funded)
International Mail Service Provider
US Military - RC South/RC East – Host Nations Trucking – Nationwide
US Military - FOB Security