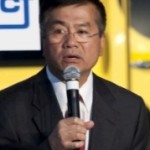 This week, a delegation of representatives from 14 American companies sets off for Iraq, on what the US Commerce Department—that's Secretary Gary Locke, pictured—is calling "the first trade mission since the end of the US government's combat operations in Iraq."
The exact timeline of this "historic" event is deliberately obscure; the following exchange, from an on-the-record-off-the-record press briefing, explains why.
SENIOR ADMINISTRATION OFFICIAL: We want to be very circumspect about the dates of this for operational security purposes, so…
QUESTION: Because security is so good… (Laughter.)
Didn't catch the joke? Even though the government is promoting this as the first "post-combat" trade mission to Iraq, the details are secret because the delegation might get shot.
Ha, ha.
An official disclaimer for the trip warns that the government "does not make any representations or guarantees as to the safety or security of participants," and warns them all to buy the requisite insurance.
As if government's inability to declare a person's safety in a country it just supposedly liberated weren't discouraging enough to would-be multinationals, "the World Bank has ranked Iraq 153rd out of 183 economies on the ease of doing business," Reuters notes.
Which may explain why so few companies signed up for the trade mission.
The 14 companies comprising the delegation—many of which have prior experience in Iraq—are listed here and below.
Turns out at least nine of them were US military contractors in fiscal year 2009; they're marked with an asterisk. I've also added links to their websites, where available—and, of course, listed the owners' names.
America Cargo Transport Company – Seattle, Wash. *

Sonny Sanders (president) Frank Williamson (secretary), Kevin Orstad (treasurer), Steven Scalzo (director), Gary Faber (director)

Bell Helicopter Textron, Inc. – Fort Worth, Texas *

Publicly traded; Scott C. Donnelly (president and CEO)

Bond Building Systems, Inc. – Fort Lauderdale, Fla.

Arthur H. Bond, Jarold W. Regier, William C. Hanson (principals)

CSECO – Alameda, Calif. *

Patrick J. Campbell (founder), Tony Harris (president)

Flatter & Associates – Stafford, Va. *

J.R. Flatter (founder)

General Electric – Schenectady, N.Y. *

Publicly traded; Jeffrey R. Immelt (chairman and CEO); 12th-largest US defense contractor

ICON Global Architectural Engineering – Bloomfield Hill, Mich.

Victor Saroki (owner)

Newport Global Group, Ltd. – Middletown, R.I.

Rounsevelle W. Schaum (chairman and CEO)

Omnitrans Corporation – New York, N.Y.

Hermann V. Amsz (chairman)

Sallyport Global Holdings – Bridgeville, Pa. *

Tom Charron (founder and CEO)

Ted Jacob Engineering Group – Oakland, Calif.

Ted Jacob (principal)

The Boeing Corporation – Chicago, Ill. *

Publicly traded; W. James McNerney, Jr. (chairman and CEO); 2nd-largest US defense contractor

TVC-MaxCell – Annville, Penn. *

James R. Manari (president)

Wamar International Inc. – Simi Valley, Calif. *

George Wadi Aranki (president)
US International Trade Administration spokesman Tim Truman tells me the companies were selected on the strength of their applications, solicited through a notice in the Federal Register.
The cost was $5,200 for small- and medium-sized businesses, and $6,000 for the big ones (Boeing, GE and maybe Wamar?); the extra $800 covers "matchmaking" a "personal security detail"—more contractors, presumably.
Travel, lodging and all but two meals, according to this advance schedule, are not included.
As junkets go, it leaves something to be desired. The head of Omnitrans, pictured here, looks likely to have had more fun on his last trip trip to the beach: