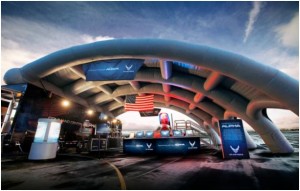 This adrenalized carnival tent is "Command Center Alpha," the US Air Force's "marquee asset" in a traveling recruitment fair. The idea is to "create face to face interactions with Air Force recruiters" and "generate qualified leads."
Basically, it's a high-tech honeytrap for future Predator drone pilots who live in smallish cities in the Southern and Western US.
The 80'x80' portable video arcade includes "20 Augmented Reality Touch points"—presumably sort of like that Esquire cover—12 RFID "Digital Rewards stations" and an F-16 fighter hitched to a trailer, with stairs leading up to the cockpit.
Other Air Force "mobile marketing" campaigns include the "Stealth Engage Tour," which "plays on the idea that the Air Force has the most high-tech, top secret image of all the services."
Kids will be challenged to complete an important Air Force mission at this tour while hearing real stories of Airmen and learning about the career opportunities the Air Force can provide. They start the tour with registration, followed by a video experience, then video game play and then time to explore the outside "Real Stories" area[.]
Sign on the dotted line and receive, as your enlistment bonus, a free X-Box 360!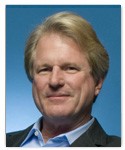 Who's behind this cleverly (if not cynically) designed recruitment campaign?
The specs above come from a request for proposal by GSD&M Idea City, the Austin, Texas ad agency that yesterday received an estimated $41 million modification to its Air Force advertising contract.
The agency's other clients include the AARP, BMW, Hallmark, LL Bean, Popeye's, Southwest Airlines and the University of Texas. Its founder is "purpose-based" adman Roy M. Spence, Jr., is pictured right.

GSD&M is controlled by the publicly traded Omnicom Group, which turned a $793 million profit last year on its worldwide advertising business. Omnicom's chairman and CEO, John D Wren, is pictured left.
Some of Omnicom's board members have ties to Hasbro, Electronic Arts and Major League Baseball, all of which, like the Air Force, nowadays rely on video games to grab and hold kids' attention.
The Air Force "experience" takes its cue from the Army, which found some success meeting recruitment goals with the help of custom first-person shooter games.
Following protests and unflattering press coverage, a flagship "Army Experience Center" arcade in Philadelphia recently announced its impending closure. The Air Force shouldn't have that problem, however, because unlike the Army arcade, the Air Force show won't stay in one place for long.