W.I.B.'s first partnership with a print publication is also my last cover story for the Santa Fe Reporter, where I've worked full time for the past two years.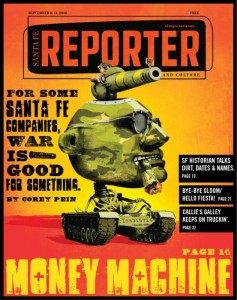 I perused federal spending records to find the largest US Defense Department and Homeland Security contractors in Santa Fe, and found a few surprises—including a company working on hypersonic scramjet missile propulsion, and a strange mini-Blackwater mercenary firm founded by an ex-Navy SEAL-cum-corporate motivational speaker.
Read the full story over at SFR.
And if you're anywhere near Santa Fe, come by the first fundraiser for W.I.B. and its non-profit affiliate, Global Conflict Research, Inc.
A half-dozen local artists have donated pieces for auction, and three DJs will take the stage. Here's an appropriately lo-fi sample image of the DIY stencil T-shirts we'll be selling: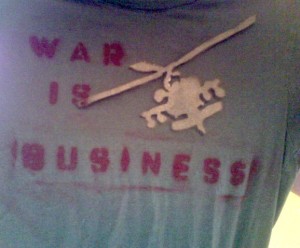 Read the full details at the Facebook page.
Thanks to SFR, Corazón, Kindle Project and all the artists, musicians and volunteers who've lent their support thus far.