Northrop Grumman: A Titanic Warcorp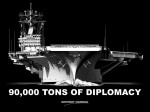 In November 2010, Apple Computer announced a new addition to its board of directors: Retired Northrop Grumman chairman and CEO Ronald D. Sugar.
Who did Sugar leave in charge of the third-largest Pentagon contractor? And which politicians has Northrop back in the mid-term elections?


EDIT LOGO
---
Website: http://www.northropgrumman.com/ EDIT
Basics
Annual revenue: $33,755,000,000 SOURCE EDIT
Annual profit: $2,794,000,000 SOURCE EDIT
No. of employees: 120,700 SOURCE EDIT
Parent company: NORTHROP GRUMMAN CORPORATION EDIT
Related company names: VINNELL CORPORATION EDIT
Top military customer: US Department of Defense EDIT
Aggregate value of contracts from top customer in years 2001-2010: $121,324,518,110
Number of contracts represented in that total: 127,466
Locations
SOURCE EDIT LOCATIONS
People
Top owner (individual): Ronald D. Sugar SOURCE EDIT EDIT MUGSHOT
Top owner (institutional): EDIT
Other owners: Wesley G. Bush,James F. Palmer,Michael C. Petters EDIT

Chief executive: Wesley G. Bush EDIT EDIT MUGSHOT
Chief executive annual compensation: $10,382,080 SOURCE EDIT
Other executives: Sid Ashworth,Debora Catsavas,Sheila C. Cheston,James F. Palmer,Alexis Livanos,Kenneth N. Heintz EDIT

Board chair: Lewis W. Coleman EDIT EDIT MUGSHOT
Other board members: Wesley G. Bush,Thomas B. Fargo,Vic Fazio,Donald Felsinger,Stephen E. Frank,Bruce S. Gordon,Madeleine Kleiner,Karl J. Krapek,Richard B. Myers, Kevin Sharer, Aulana L. Peters SOURCE EDIT

Top lobbyist: Sid Ashworth EDIT EDIT MUGSHOT
Other lobbyists: Morris J Amitay,Balch & Bingham,Breaux Lott Leadership Group,Brown & Co,Carter Consulting,Collins & Co,Commonwealth Consulting,Elmendorf Strategies,Ervin Technical Assoc,Federal Initiatives,Kadesh & Assoc,Diane O'Toole,Patton Boggs LLP,Potomac Advocates,Steve Sutton,Patrick Tucker SOURCE EDIT
Annual lobbying expenses (average or most recent year): $12,080,000 EDIT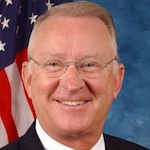 Top political donee: Howard P "Buck" McKeon (R-CA) EDIT EDIT MUGSHOT
Lifetime total given to top donee: $50,000
Other political donees: Daniel K Inouye (D-HI),Dutch Ruppersberger (D-MD),Ike Skelton (D-MO),Richard C Shelby (R-AL),Jane Harman (D-CA),Glenn Nye (D-VA),Charles E Schumer (D-NY),Rob Wittman (R-VA),Bill Nelson (D-FL),J Randy Forbes (R-VA),Mark Kirk (R-IL),James Webb (D-VA),Gene Taylor (D-MS),Joe Lieberman (I-CT),John Thune (R-SD),Bill Posey (R-FL),Corrine Brown (D-FL),John McCain (R-AZ),Eric Cantor (R-VA) EDIT
Annual political campaign giving (average or most recent year): $1,522,230 EDIT
Associated people: SOURCE EDIT
Activities
Aerospace provider Northrop Grumman Corp. has agreed to pay the U.S. $12.5 million to settle fraud allegations that it knowingly provided low-quality commercial electronics for the military's airplanes, helicopters and submarines, the Department of Justice said Wednesday. É Northrop, a Los Angeles based military contractor with businesses in aircraft, ship building and information systems, purportedly sold equipment it had not bothered to test for the extreme temperatures required for military and space uses from November 1998 through February 2007.
Original record type: US Army, 2003
Last updated on Feb. 25, 2011 with contributions from Corey Pein.