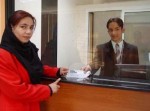 This picture shows an Afghan employee of the consulting firm BearingPoint "using her Kabul Bank card to receive her first salary payment from the Kabul Bank." It was taken back in 2004, when USAID could praise the burgeoning Afghan financial sector with a straight face:
In an effort to enhance efficiency and service to its staff, BearingPoint created accounts at Kabul Bank for its 400 local employees. Opening these accounts introduced these Afghans – most of which had never before been exposed to a financial institution – to commercial banking systems.
Since then, Afghanistan's introduction to modern commercial banking has come full circle. Kabul Bank has been revealed to the world as an enormous scam, and thousands of Afghan civil servants have been screwed over by the bank's politically-connected shareholders. Likely as not the people who posed for that USAID photo op have gone back to stuffing their Afghanis under the mattress.
Who will undo the damage? Another contractor.
The Afghanistan USAID mission is hiring a "Financal Sector/Banking Advisor."
The chosen candidate must be "an internationally known expert in the financial sector strengthening field"—but the pay scale starts at $99,628, roughly equivalent to the annual salary of a mid-sized public school principal in the United States.
On the other hand, with unemployment so bad, somebody will be desperate enough to take this job.
The solicitation alludes to the Kabul Bank crisis only vaguely:
The Financial Sector/Banking Advisor will design, report on, and oversee the implementation of activities responsive to country needs in building economic infrastructure such as: capacity building of key Government of Afghanistan institutions in the areas of procurement, financial management, planning, staff training, anti-corruption measures, monitoring, promotion and other management areas.
Given the current financial sector situation in Afghanistan, the Advisor will function as the primary research and design manager on these and related issues as they become of interest to the portfolio and to the USAID Mission, operational planning and strategy. Therefore, a background in these areas is highly preferred.
So far, only two small companies have expressed interest in the position on the central US government contracts board. By way of comparison, 56 companies recently signed up for a job building an ammo supply point at a forward operating base. The relative popularity of a combat-zone job should tell you something about "the current financial sector situation in Afghanistan."
The full USAID solicitation follows. Hurry! The application deadline is March 20.
[gview file="/images/2011/03/kabul-bank-adviser.pdf" width="100%" height="450" save=0]