Most of the time, mainstream news organizations are loathe to cover the arms trade. Sometimes, though, its consequences are impossible to ignore. This is one of those times. Anyone with internet access can see American weapons, provided to Hosni Mubarak's deeply unpopular government, on the other side of what is widely viewed as a democratic uprising.
Following Al Jazeera's live reports yesterday of "Made in the USA"-stamped tear gas canisters being fired on Egyptian protesters, CNN, ABC News and many other news outlets ran stories about the provenance of these reviled crowd-control weapons.
The iconic canisters were manufactured by Combined Systems Inc. of bucolic Jamestown, Pennsylvania. The company was founded by Michael Brunn and Jacob Kravel, pictured.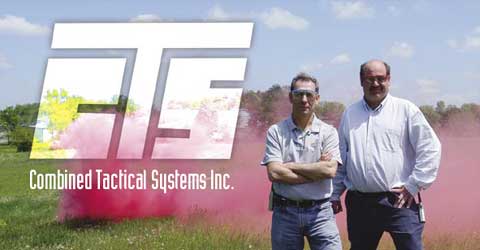 Today, CSI, a privately held company, is controlled by Point Lookout Capital Partners, whose managing directors, Michael A. Monteleone and James J. Cesare, sit on CSI's board. Point Lookout's 2005 purchase of CSI was backed by the politically connected private equity giant The Carlyle Group, which took a minority stake in the munitions company.
Tanks Don't Kill People, Tank DRIVERS Kill People…
The other elephants in the room are those 60-ton American-made Abrams tanks on the streets of Cairo. Actually, they're not 100 percent American-made. Since 1988, the tanks have been partly build in Egypt under a co-production agreement.
The long-running and ongoing military cooperation has always been justified to Congress as "helping to improve the security of a friendly country which has been and continues to be an important force for political stability and economic progress in the Middle East."
So much for "stability."
Even if Mubarak imagined one day deploying these tanks against his own people—and he probably did—this is probably not the kind of picture US officials hoped to see on the news: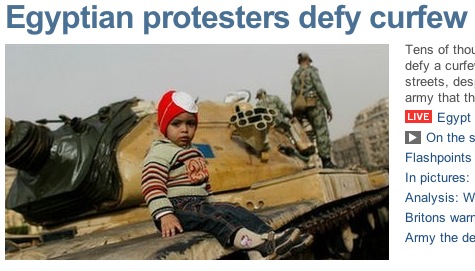 As ludicrous as it sounds, the US Army actually seemed to think that Egypt's tanks would come in handy should World War II somehow break out again. Witness this US-Egyptian training exercise from just two years ago :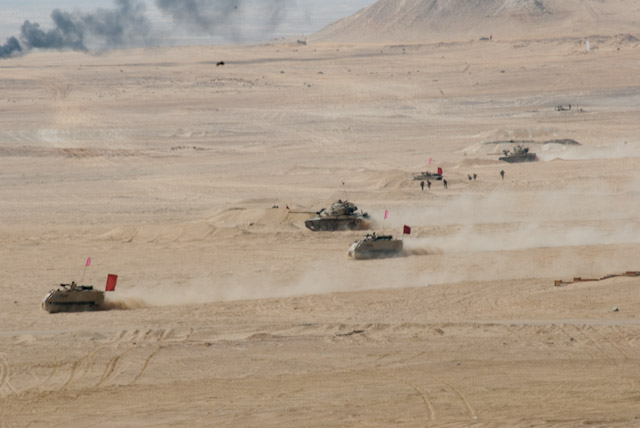 Not a civilian to be seen. Definitely no piggyback rides.
Will the scenes playing out in Cairo, Alexandria and Suez make US policymakers think twice before arming another detested foreign dictator? They probably should—especially if a General Dynamics product crushes an Egyptian demonstrator—but they probably won't.
At least the press is beginning to pay closer attention.