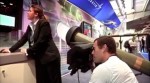 It's a problem when the only people who keep tabs on the arms trade happen to be personally invested in the arms trade. So I'm glad to see that a new MTV show, The Vice Guide To Everything, is taking a critical look at "the business of war."
Producer Jason Mojica passed along a segment he put together for the Vice show—a less frivolous operation than the magazine—that offers a peek into the biennial SOFEX arms trade expo in Jordan.
Last year, SOFEX drew over 300 exhibitors from dozens of countries, creating an "ideal opportunity to network with key military and government decision makers responsible for making the world a safer place"—or something like that. The guest of honor was The Duke of York.
The full segment will be watchable online Frontline, it's not. Which, again, is a good thing.
Hopefully, W.I.B. will be able to send someone to next year's expo in Jordan to buy a few automatic grenade launchers collect business cards. In the meantime, there's still plenty of work to do—like figuring out who owns all these companies.
SOFEX Jordan 2010 Exhibitors list
Australia
Austria
Ministry of Defense Industry of Azerbijain Republic
Azerbaijan
Belarus
Belgium
Belgium
Royal Brunei Technical Services
Brunei
Bulgaria
Bulgaria
Bulgaria
Canada
Canada
Canada
Canada
Canada
Canada
China National Precision Machinery I/E (CPMIEC)&compplace=China)
China
China North Industries Corporation (NORINCO)&compplace=China)
China
Czech Republic
Czech Republic
Czech Republic
Czech Republic
Defence and Industry Association of Czech Republic
Czech Republic
Czech Republic
Ministry of Defence of the Czech Republic
Czech Republic
Czech Republic
Czech Republic
Vojensky Opravarensky Podnik 25 Novy Jicin
Czech Republic
Czech Republic
Denmark
France
France
France
France
France
EURENCO (GROUPE SNPE)&compplace=France)
France
France
France
France
France
France
France
France
France
Germany
Germany
Germany
Institut DR Foerster GmbH & Co KG
Germany
Germany
Germany
Newco Safety Technologies GmbH/ATC
Germany
Germany
Germany
Germany
Greece
Asian Military Review /Defence and Security of India
India
Italy
Italy
Italy
Italy
Italy
Italy
Italy
Novation SPA -Cosmas Safety Division
Italy
Italy
Italy
Advanced Future Group International (AFGI)&compplace=Jordan)
Jordan
Jordan
Jordan
Jordan
Arab Ready Meals Company (ARM)&compplace=Jordan)
Jordan
Jordan
Jordan
Jordan
Command Control & Communications Directorate
Jordan
Defence Resources & investment Management
Jordan
Jordan
Directorate of Doctrine & Joint Training (DDJT)&compplace=Jordan)
Jordan
Directorate of Information Technology
Jordan
Directorate of Joint Logistics
Jordan
Directorate of Military Production
Jordan
Directorate of Military Survey/Jordan Geographic Centre
Jordan
Jordan
Disassembly and Surplus Ammunition Disposal Unit
Jordan
Fawaz Al Saraireh Trading Establishment
Jordan
General Directorate of Gendarmerie Forces
Jordan
Jordan
Hamzeh Bin Abdel Mutaleb Brigade
Jordan
International Corp For Hunting Supplies
Jordan
ISAN International Supplies & Provisions Est
Jordan
Jordan Electronic Logistics Support (JELS)&compplace=Jordan)
Jordan
Jordan Aerospace Industries (JAI)&compplace=Jordan)
Jordan
Jordan Aeronautical Systems Company (JAC)&compplace=Jordan)
Jordan
Jordan Advanced Machining Company (JordanAMCO)&compplace=Jordan)
Jordan
Jordan Advanced Remote Systems (JARS)&compplace=Jordan)
Jordan
Jordan Ammunition Manufacturing and Services Company (JORAMMO)&compplace=Jordan)
Jordan
Jordan Armaments and Weapons Systems (JAWS)&compplace=Jordan)
Jordan
Jordan Armed Forces (JAF)&compplace=Jordan)
Jordan
Jordan Fabric and Worsted Manufacturing and Al Zay Ready Wear
Jordan
Jordan
Jordan International Security Company (Josecure International)&compplace=Jordan)
Jordan
Jordanian Joint Special Operations Command
Jordan
Jordan
Jordan Light Vehicle Manufacturing (JLVM)&compplace=Jordan)
Jordan
Jordan Manufacturing And Services Solutions (JMSS)&compplace=Jordan)
Jordan
Jordan River Hawk Shipbuilding and Support
Jordan
King Abdullah Design & Development Bureau (KADDB)&compplace=Jordan)
Jordan
KADDB Industrial Park (KIP)&compplace=Jordan)
Jordan
KADDB Investment Group (KIG)&compplace=Jordan)
Jordan
King Abdullah II Special Operations Training Center (KASOTC)&compplace=Jordan)
Jordan
MKD (Al Moutakhasisa for Industrial Product Design)&compplace=Jordan)
Jordan
Jordan
Mu'tah University Military Wing
Jordan
Jordan
Orange Jordan/Jordan Telecom Group
Jordan
Jordan
Jordan
Royal Engineering Corps (REC)&compplace=Jordan)
Jordan
Jordan
Royal Jordanian Air Force (RJAF)&compplace=Jordan)
Jordan
Jordan
Royal Maintenance Corps (RMC)&compplace=Jordan)
Jordan
Royal Medical Services (RMS)&compplace=Jordan)
Jordan
Seabird Aviation Jordan (SAJ)&compplace=Jordan)
Jordan
Security and Defence Technologies
Jordan
Jordan
Jordan
Thales (Jordan)&compplace=Jordan)
Jordan
The Directorate of Military Women's Affairs
Jordan
The General Directorate of Jordan Civil Defence
Jordan
The Jordanian Company for Manufacturing Special Boots
Jordan
The Jordan-Russian Electronic Systems Co (JRESCO)&compplace=Jordan)
Jordan
Total Telecom Company (Tekjo)&compplace=Jordan)
Jordan
United Corrosion Technologies/Cortec Corp
Jordan
Jordan
Jordan
Jordan
Al – Defaiya (Arabian Defence & Aerospace Business)&compplace=Lebanon)
Lebanon
Bardawil Aviation-Bell Helicopter
Lebanon
Lebanon
Lebanon
Lebanon
Security Middle East Show (SMES)&compplace=Lebanon)
Lebanon
Societe Fils Joseph Abi Semaan Pour Le Commerce SARL (JOSONS)&compplace=Lebanon)
Lebanon
Wojskowe Zaklady Uzbrojenia SA
Poland
Romania
Romania
Russia
Bedretdinov & Publishing Company
Russia
Russia
Isan International Supplies & Provisions Est
Russia
Novosibirsk Instrument-Making Plant – Federal State Unitary Enterprise Production Amalgamation
Russia
Rosoboronexport State Corporation
Russia
Russian Technologies State Corporation
Russia
Scientific Research Institute Of Applied Chemistry (NIIPH)&compplace=Russia)
Russia
Russia
Russia
Saudi Arabia
Serbia
Slovakia
Slovakia
South Korea
South Korea
South Korea
Korea Defense Industry Association (KDIA)&compplace=South%20Korea)
South Korea
South Korea
South Korea
South Korea
South Korea
Spain
Pelican Products Middle EastFze
Spain
Sweden
Sweden
Sweden
Sweden
Switzerland
Curtiss-Wright Antriebstechnik GmbH
Switzerland
Dupont International Operation
Switzerland
Switzerland
Switzerland
FLIR Commercial Vision Systems
The Netherlands
The Netherlands
The Netherlands
Turkey
Turkey
Turkey
Turkey
Turkey
Basak Savunma Sanayi Sistemleri Tic Ltd Sti
Turkey
Turkey
Turkey
Turkey
Turkey
Turkey
Turkey
Turkey
Turkey
Turkey
Military Science and Intelligence Magazine (MSI)&compplace=Turkey)
Turkey
Turkey
MKEK – Makine Ve Kimya Endustrisi Kurumu
Turkey
Turkey
Turkey
Turkey
Turkey
Turkey
Turkey
Turkish Aerospace Industries Inc (TAI)&compplace=Turkey)
Turkey
Undersecretariat for Defence Industries (SSM)&compplace=Turkey)
Turkey
Yakupoglu AS (YDS)&compplace=Turkey)
Turkey
UAE
UAE
Automotive Management Services FZE
UAE
UAE
UAE
UAE
UAE
UK
UK
Arab Defence Journal (Dar Assayad)&compplace=UK)
UK
Clarion Events Ltd (DSEi)&compplace=UK)
UK
UK
UK
Enterprise Control Systems Ltd
UK
UK
UK
UK
UK
UK
UK
UK
UK
UK
UK
UK
UK
UK
UK
UK
UK
UK
UK
UK
UK
UK
UKTI Defence & Security Organisation
UK
UK
USA
USA
Advanced Technology Systems Company
USA
USA
USA
USA
USA
American Technologies Network Corp
USA
ATK (Alliant Techsystems Inc)&compplace=USA)
USA
Association of the United States Army (AUSA )&compplace=USA)
USA
USA
USA
USA
USA
USA
USA
Broadcast Microwave Services Inc
USA
Brunswick Commercial and Government Products
USA
USA
USA
USA
USA
USA
Datron World Communications Inc
USA
USA
USA
USA
USA
USA
USA
USA
USA
USA
USA
General Dynamics Advanced Information Systems
USA
General Dynamics Armament and Technical products
USA
General Dynamics Information Technology
USA
USA
USA
USA
USA
USA
USA
USA
USA
USA
USA
USA
USA
USA
USA
USA
USA
USA
USA
North American Surveillance Systems LLC
USA
Northrop Grumman Corporation Information Systems
USA
USA
USA
USA
USA
USA
USA
USA
USA
USA
USA
USA
USA
USA
USA
USA
USA
USA
USA
USA
USA
Simulator systems International
USA
USA
USA
USA
USA
USA
USA
USA
USA
USA
USA
USA
USA
USA
USA
USA
Universal Dynamics (UDI)&compplace=USA)
USA
USA
USA
USA
USA