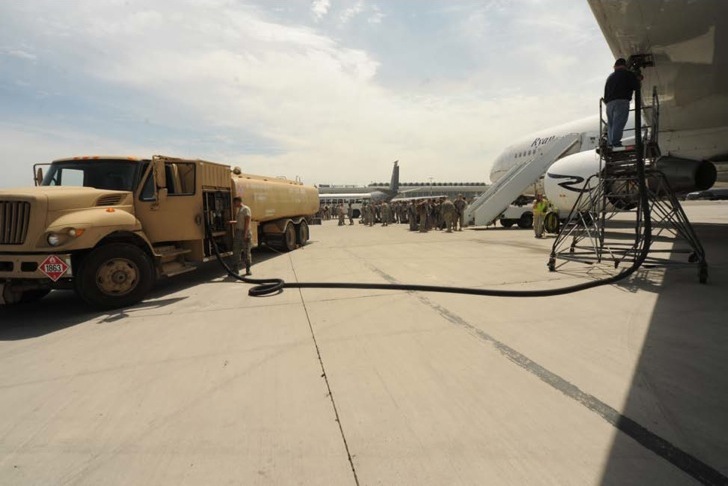 After spending the afternoon reading a 75-page report by investigators for the US House of Representatives Subcommittee on National Security and Foreign Affairs—a report that was eight months in the making—I still have no idea how the US military gave a crucial wartime fuel contract worth $2 billion to a company that operates completely
out of the public view: they have no website; their listed physical address is a corporate drop-box in Gibraltar; until April, their operations were run out of a second-floor hotel suite at the Hyatt in Bishkek; and their beneficial ownership is buried deep under layers of shell companies formed in countries whose corporate laws are designed to facilitate secrecy and tax avoidance.
The failure of the investigators to clear up some fundamental questions is one reason why the company, Mina Corp., feels comfortable issuing a press release that "welcomes" the Congressional report as a vindication.
[visitor]
HELP RESEARCH MILITARY CONTRACTORS. ACCESS MORE OF THIS SITE. BANISH THESE BANNERS.
[/visitor]
In reality, the report vindicates no one. Investigators merely failed to find a smoking gun proving a corrupt relationship between the company and the former President of Kyrgyzstan, where Mina Corp. was hired to supply 500,000 gallons of jet fuel every day to American forces stopping over at the Manas Transit Center on the way to and from Afghanistan.
It is true that the investigators come down harder on the Pentagon than on Mina Corp., for all the company's shadiness.
And make no mistake—there was a lot of shadiness. Emails from the company to the Pentagon show that Mina Corp. was using false documents in order to procure jet fuel from Russia. The fraud was deemed necessary because—according to the company, at least—Russia officially prohibited the export of fuel for military uses.
This fraudulent modus operandi also had the effect of making Mina Corp. seem like an "indispensable contractor." As the report notes, "[n]ot only had the company developed a unique fuel supply system that no other contractor could duplicate, but the Department of Defense had little visibility into how the system actually worked."
Could the most fearsome military in world history, so it is said, really be that inept? That's the story told in this report.
In November 2010, after Russia had substantially stopped all exports of fuel to Manas, Department of Defense policy officials met with the Subcommittee staff and stated that the supposed Russian restrictions on the fuel supply may not have actually existed and had been "overblown" by the Department. They could not tell the Subcommittee whether Russia had ever actually prohibited the export of jet fuel for military use. In short, the Department had largely relied exclusively on its contractors for information regarding Russian restrictions and sensitivities related to the principal source of jet fuel for the mission in Afghanistan. The Department's lack of visibility into its fuel supply was a major strategic blind spot.
Without any independent verification of Russian fuel supply sensitivities, [Pentagon contracting officials] seemingly accepted Mina and Red Star's view that, "[n]o other company can currently offer [the Russian fuel supply] option and inquiries or attempts by others could severely disrupt fuel supplies to the U.S. Military in Kyrgyzstan and Afghanistan and cause significant material damages." Of course, it should be noted that Mina and Red Star had a multi-billion dollar financial incentive for the Department of Defense to believe that they were irreplaceable.
It's truly a marvel that the Pentagon demonstrated such an astonishingly naïve level of trust with a company run from a hotel suite and registered at a mail drop in the tropics.
Perhaps there's something to this story that the investigators missed. Regardless, this point bears repeating: The military took a foreign contractor's word as to its own indispensability, despite having no idea who actually owned the company, and even though company employees had admitted, in writing, to having duped government officials elsewhere. From the report:
[I]t was only in November 2010 that [Pentagon officials] asked who owned the companies. Similarly, when the Subcommittee staff asked [Pentagon] officials to help locate the companies' physical offices in order to serve subpoenas, they did not know where they were located except for the corporate drop-boxes listed on the contracts. According to one senior official, "[f]rom a procurement standpoint, we don't need to know foreign ownership."
Evidently, "from a procurement standpoint," it wouldn't much matter if Al Qaeda started a Pentagon subcontracting division. Brilliant. Among the Congressional report's somewhat timid recommendations, it calls for "[t]ransparent ownership information for contractors and subcontractors in vital supply chain contracts."
Yeah, that might be a good idea. I'll endorse it, even though it would make my job here somewhat redundant.
Here, according to the report, are the "key personnel" of Mina Corp. and its predecessor, Red Star Enterprises.
Erkin Bekbolotov is a co-founder and beneficial owner of both Mina and Red Star. Until recently, he served as general manager and chief executive officer of the companies. Along with Charles Squires, he had been the principal manager involved in the day-to-day operations of the companies. Mr. Bekbolotov's primary responsibilities were management of fuel procurement and the companies' financial hedging against exposure to fuel price fluctuations.
Douglas Edelman is a co-founder and de facto beneficial owner of both Mina and Red Star and serves as a strategic advisor. Mr. Bekbolotov and Mr. Squires stated that Mr. Edelman has no involvement in the day-to-day operations of the companies. He has met on occasion with officials from DLA-Energy and was regularly copied on emails referencing sensitive or problematic issues with the contracts. Mr. Edelman is an American citizen from California but has lived abroad for the past 25 years. He has not traveled to Kyrgyzstan for the past 10 years.
Charles Squires is the director of operations for both Mina and Red Star and is principally responsible for the logistics of transporting, storing, and delivering fuel to Manas and Bagram. He began working for Red Star in August 2003. Mr. Squires retired as a lieutenant colonel from the United States Army after 27 years of service and previously served as the defense attaché to Kyrgyzstan.
Denis Grigoriev became the Chief Executive Officer of Mina and Red Star on July 1, 2010 and took over many of the management responsibilities from Mr. Bekbolotov. He previously served as a commodities trading specialist and "relationship manager" for BNP Paribas in Switzerland where he had handled Mina and Red Star's accounts.
Anthony Guerne is an independent consultant who served as Mina and Red Star's chief financial officer until the spring of 2010. He was responsible for the companies' banking, insurance, and inspections. Prior to joining the companies, Mr. Guerne, like Mr. Grigoriev, spent time at BNP Paribas and worked in commodities trading and banking. He recently left the companies in spring 2010.
For smart takes on this undercovered scandal, read The Bug Pit and Foreign Policy. The stories in the Washington Post and The New York Times suffer for a lack of breathing room. If you need some depressing holiday reading to counteract all the cheer and goodwill, download the Congressional report here and read it for yourself.