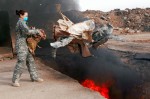 The latest report by the US Defense Department's theoretically independent Inspector General made for dreadful weekend reading. Yet scattered throughout the 116-page report (pdf), there are intrigues disguised by bland bureaucratese, and hints of unreported scandal.
For instance, a summary of one investigation by the IG reveals that military officials let an unnamed Turkish fuel contractor get away with theft because it would be "too difficult" to figure out how much was stolen.
Here's the excerpt:
Fuel Theft from Joint Base Balad, Iraq
Overview: Two cooperating witnesses reported to the International Contract Corruption Task Force that Turkish companies and their Iraqi subcontractors were stealing U.S. government diesel fuel from Joint Base Balad, Iraq. The witnesses alleged the fuel thefts occurred near the "Burn Pit" and the fuel was transported off base for resale on the black market in modified dump trucks with false fuel tanks. Surveillance disclosed representatives from four Turkish and three Iraqi contractors sponsored local Iraqi subcontractors operating modified trucks on base and these trucks were used to steal diesel and jet fuel.
Result: One Iraqi subcontractor agreed to settle with the U.S. government for $111,000. The Regional Contracting Center, JBB, declined to pursue a monetary recovery from one of the Turkish prime contractors because their workload increased over the time frame of the alleged fuel theft, making it too difficult to separate legitimate usage from illegitimate usage. Negotiations are still ongoing with four other contractors. This was a joint investigation with Army CID.
The US military has signed fuel-related contracts with no fewer than 27 Turkish companies. The largest contracts, worth over $100 million, are with Golteks Transportation and Trading, Delta Petrol and Ram Dis Ticaret.
See the full list is below:[access capability="read_walled"]
AKKAN INSAAT TICARET VE SAN LT
AKSU NAKLIYAT VE DIS TICARET LTD STI
AKTAS INSAAT – CENGIZ AKTAS
AYTEKIN-SEROL INS MUTEAHHIT-MUHENDIS HIZMET VE I
CELEBI HAVA SERVISI A S
DATEL A S
DELTA PETROL URUNLERI TICARET A S
EMTA INSAAT TAAHUT VE TICARET A S
FAUDI AVIATION -FUEL FILTRATIO
FAUDI AVIATION FUEL FILTERATIO
GOLTEKS TRANSPORTATION AND TRADING COMPANY
HFMG INSAAT MUH PRO MUS IC VE DIS TIC SAN LTD STI
INSAAT MUHENDISI MUTEAHHIT SER
INTERTEK U S A INC
MEHMET ERDAL KAMISLI INS ELEK MAKINA TUR VE SEY ACENTA TASIM
MENATEK YEDEK PARCA ITHALAT IHRACAT SANAYI VE TICARET LIMITED
METAG INSAAT TICARET A S
OBD INSAAT TAAHHUT TURIZM SANAYI VE TICARET LTD STI
ORTASARK MADENCILIK INSAAT TAA
PETROL OFISI A S
RAM DIS TICARET A S
SENSAN MUHENDISLIK VE TICARET
SERKA INSAAT VE TICARET AS
SEROL ACAR INSAAT TAAHHUT TICA
T M A MUHENDISLIK LTD STI
TAYLAN CONSTRUCTION TRADE COMPANY LIMITED
UGM MAKINA PLASTIK BILGISAYAR ELEKTRONIK SANAYI VE DIS TICAR
Source: DoD. [/access] [access capability="hit_wall"] …The rest of this post is for contributors only. If you've registered with the site, but haven't yet pitched in to with the DIY • WIB form, take a minute to complete your registration.
HELP OUR RESEARCH TO SEE THE FULL LIST OF TURKISH FUEL CONTRACTORS IN IRAQ.
Alternately, you can make a modest donation. [/access] [visitor]…The rest of this post is for contributors only.
HELP OUR RESEARCH TO SEE THE FULL LIST OF TURKISH FUEL CONTRACTORS IN IRAQ.
[/visitor]