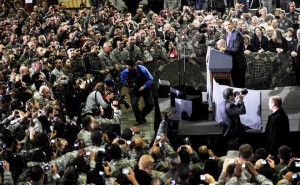 The skirmish between the two Koreas begs for a glance at the peninsular arms trade.
North Korea's conventional weapons and missile exports are believed to total $100 million a year, approximately two-thirds of which go unreported anywhere, according to a recent United Nations report. This is pretty miraculous, considering the strict sanctions facing the North.
Weapons are North Korea's business. Indeed, "arms exports have become one of the country's principal sources for obtaining foreign exchange," as the UN's experts write in the report (pdf).
Who's buying? Anyone who, for whatever reason, can't buy American. See the chart below: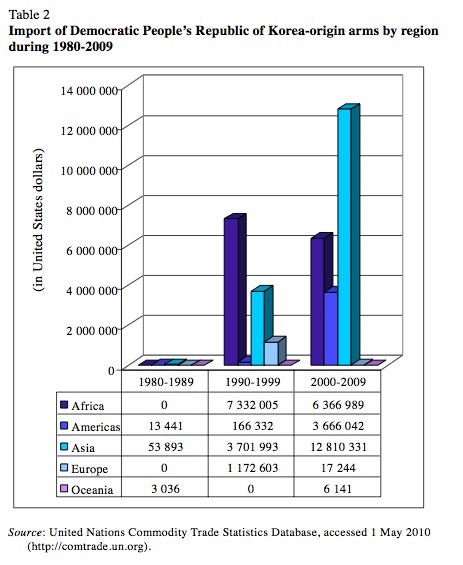 Specifics are more tricky. As the UN report dryly notes, North Korea "withholds statistical information concerning its arms exports and few recipient countries report such imports." (You could say that all statistics pertaining to North Korea are 90 percent guesswork.)
Nevertheless, the sheer scope of its illicit arms trade reveals the hypocrisy of North Korea's anti-imperialist ranting. To wit:
Pyongyang, November 18 (KCNA) — Ever since the emergence of the present administration the United States has drastically increased military spending, sparked off a new arms race, built military bases in different parts of the world, demonstrated its huge armed forces and staged military exercises there, creating the danger of war…
However, all effective propaganda contains a grain of truth—and so it is with this high-strung hyperbole from North Korea. While Obama has not "drastically increased military spending," the US has always been a bigger player in the arms trade than North Korea or its patron, China.
The table at the bottom of this post tallies US arms deliveries to South Korea since 1950, the year that marked the start of the Korean War.[visitor]
HELP RESEARCH ARMS DEALERS. ACCESS MORE OF THIS SITE. BANISH THESE BANNERS.
[/visitor]
It shows that annual US arms deliveries to South Korea alone come to several times the value of North Korea's estimated arms exports to the rest of the world.
That mismatch holds true even before figuring in the cost of the 28,000 or camo-clad Americans stationed in the South (about 1,500 of whom met President Obama at Osan Air Base this time last year, hence the photo above.)
These numbers are surely at the back of Kim Jong-Il's mind whenever he approves a strike such as today's.
Year Total arms deliveries
1950-1969
$2,429,000
1970
$1,904,000
1971
$407,000
1972
$370,000
1973
$2,378,000
1974
$13,278,000
1975
$68,504,000
1976
$159,152,000
1977
$169,272,000
1978
$382,250,000
1979
$344,512,000
1980
$291,144,000
1981
$289,868,000
1982
$214,422,000
1983
$297,074,000
1984
$246,463,000
1985
$258,994,000
1986
$336,270,000
1987
$344,134,000
1988
$325,570,000
1989
$315,645,000
1990
$326,655,000
1991
$226,812,000
1992
$308,932,000
1993
$302,845,000
1994
$382,720,000
1995
$452,842,000
1996
$339,844,000
1997
$509,180,000
1998
$883,566,000
1999
$584,733,000
2000
$1,399,110,000
2001
$735,300,000
2002
$533,378,000
2003
$560,079,000
2004
$600,782,000
2005
$590,944,000
2006
$598,579,000
2007
$730,798,000
2008
$797,268,000
2009
$478,550,000
TOTAL
$15,406,958,000
Source: US Department of Defense