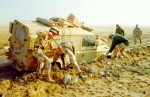 "All Land Rovers look pretty much alike," said a former high-ranking U.S. intelligence official familiar with operations in Yemen.
••• 21st Century travel advice: Avoid Land Rovers.
American contractor Josef Trimpert…would use SGS money to buy imported liquor, which was then given to U.S. troops in exchange for weapons and ammunition, which were then sold locally.
••• 21st Century Milo Minderbinder?
For a great many years, as a soldier, I had a suspicion that war was a racket; not until I retired to civil life did I fully realize it. Now that I see the international war clouds gathering, as they are today, I must face it and speak out.
The Real Reason For Obama's Trip To India…
••• That's what I'm talking about!
Somali pirates said on Saturday they had received a record ransom of $9.5 million for the release of Samho Dream, a South Korean oil supertanker
••• Negotiating lessons: "They initially demanded $20 million." Obama, are you paying attention?
"بلاك ووتر" تستأجر مكتباً لها في "مجمع الملك حسين" بالعاصمة الأردنية
••• Blackwater rents a new office in Jordan, maybe.