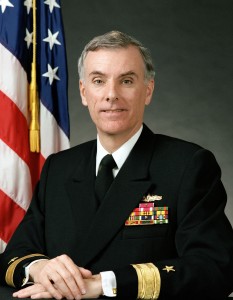 Academics have done some fascinating work on what amounts to insider trading by members of US Congress and their staff, who are privy to the details of new policies well before the general public. One study found that Senators' stock portfolios outperformed the market by an average of 12 percent a year.
It'd be interesting, to say the least, to see the results of a similar study assessing the private-sector careers of former military brass.
Corporate boards in the Washington, DC metro area are stuffed with "retired" generals, admirals and military procurement officers.
Such companies win valuable Defense Department contracts nearly every day, with the help of former officers on their payroll. Those former officers profit from the inside knowledge they gained, and the contacts they made, during their time in uniform.
The most recent example is Admiral Harold W. Gehman, Jr., pictured.
Before joining the private sector, Gehman's impressive career eventually put him in charge of the Navy's budget. Afte retiring in 2005, he joined the private sector, and in 2005, President George W. Bush appointed him to the 2005 Base Realignment And Closure commission.
BRAC is a bird's-eye planning body whose decisions can profoundly alter the economies of entire cities and regions. It's hard to think of a more valuable appointment for someone in the military construction business.
Gehman serves on the board of TranSystems, a "transportation consulting firm" with spinoffs in architecture, engineering, real estate and security.
TranSystems appears to be the latter half of an obscure outfit called RLF Transystems, LLC, Inc., of Winter Park, Florida. It was one of several corporations that will share an expected $50 million deal, announced yesterday, to build yet-to-be-named facilities for the US Navy in Africa, Europe and Southwest Asia.
Such facilities could include
Administration Buildings, Religious Facilities, Community Buildings, Dining Facilities, Recreational Facilities, Security Buildings, Child Development Centers, Bachelor Quarters, Navy Lodges, Airfield Facilities, Waterfront Facilities, Operational Facilities, Base Housing, Water Treatment Facilities…
or, in other words, pretty much anything.
The TranSystems board includes another high-ranking former Naval officer, Robert J. "Rocky" Spane, as well as Kim E. Petersen, a prolific military contractor who boasts of experience on staff in the White House, State Department and Pentagon.
TranSystems' partner in this contract is Rogers, Lovelock & Fritz, Inc., a Winter Park-based architecture firm with experience building military hospitals, and an expressed interest in the Navy's overseas construction contract.
Even if Gehman's deep knowledge of the Navy's budget and facilities requirements didn't play into this contract award, the fact that he's lent his name to TranSystems almost certainly did.