Yesterday, the Pentagon notified the US Congress of two pending foreign military sales worth $791 million. See a headline anywhere?
The first, for $98 million, will further develop the "Iraqi Defense Network," which is supposed to help the US-backed Iraqi military migrate from Hotmail and Yahoo to a more secure form of communication (seriously).
The price includes a user manual, for what it's worth, a warranty.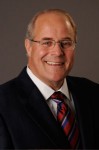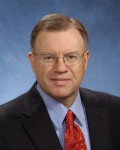 Two lucky contractors will share the Iraqi network deal: ITT Corporation and Harris Corporation of McLean, Virginia and White Plains, New York, respectively. Both companies are on W.I.B.'s list of top US military contractors.
ITT's president and CEO, Steven R. Loranger, is pictured left. Harris' chairman and CEO, Howard L. Lance, is pictured right.
If you still have trouble telling them apart, with their discreet frames, dark jackets receding hairlines and smirk-smiles, remember: Loranger is the one showing teeth.
The second arms sale, for $693 million, will give Kuwait its first C-17 Globemaster III, manufactured by Boeing.
That particular transport plane is big enough to fit half the country, and so expensive that the sale will comprise roughly one-seventh of the annual budget of the Kuwaiti Ministry of Defense. Why do they need it? According the Pentagon notice:
The KAF is tasked with relief support, humanitarian disaster and peacekeeping missions, as well as transporting dignitaries and cultural assets to various regional and international destinations.
Dignitary transport…cultural assets…Kuwait… this all sounds familiar.